(CNN)As tourists stroll between Yellowstone's 300 active geysers, taking selfies in front of thousands of bubbling, boiling mud pots and hissing steam vents, they are treading on one of the planet's greatest time bombs.
The park is a
supervolcano
so enormous, it has puzzled geophysicists for decades, but now a research group, using seismic technology to scan its depths, have made a bombshell discovery.
Underneath the national park's attractions and walking paths is enough hot rock to fill the Grand Canyon nearly 14 times over. Most of it is in a newly discovered magma reservoir, which the scientists featured in a study
published on Thursday in the journal Science
.
....
FEARS GROW OF YELLOWSTONE SUPER-VOLCANO ERUPTION LIKE IN 1959
Published on Apr 20, 2016
Sub for more: http://nnn.is/the_new_media | WCNT Channel 9 Wyoming reports, Underneath Yellowstone National Park in Wyoming, Montana and Idaho, there is a reservoir of magma that is more than twice the size that researchers previously thought. It's not getting bigger.
Fire in Earth's belly
Yellowstone's ultimate heat source reaches down 440 to 1,800 miles beneath Earth's surface -- and may come from its molten core. It is responsible for fueling the newly discovered reservoir that lies on top of it.
The magma chamber, which scientists already knew about, lies on top of the reservoir -- and draws magma from it. It is a three to nine miles under the surface of the Earth and is what fuels the geysers, steaming puddles and other hot attractions.
It alone has a volume 2.5 times that of the Grand Canyon.
But those great magma expanses do not mean that the two hellish hollows could overflow the Grand Canyon with molten rock.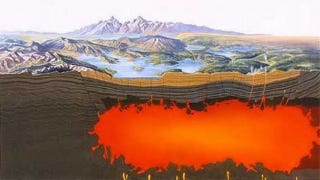 Contributing sources
---
Aging's Secret Unlocked
---
Carbohydrate Blocker
---
Magma expanse under Yellowstone supervolcano more vast - CNN.com
:
http://www.cnn.com/2015/04/24/us/yellowstone-supervolcano-magma-reservoir-discovery/index.html
'via Blog this'