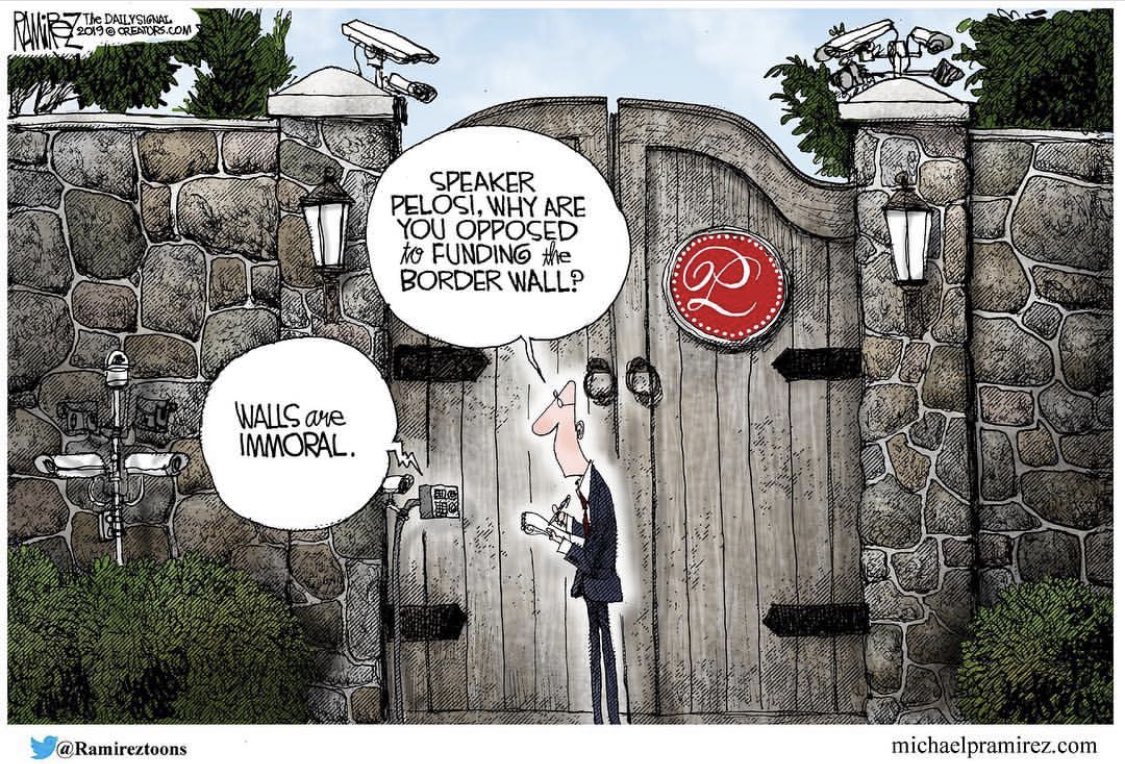 All this time, Pewlousi is covering up her fear with looking angry and being holier than thou. Not only is she wary of the SOTU for fear of the truth being exposed, she's even more afraid of "death by Cartel" if she even appears to o.k. the wall. Coming from a mafia family, born to crookedness and arrogance, of course she would be involved now-a-days in drug and human trafficking. But - they know what happens to those who betray the mafia/cartels - a contract is a contract is a contract. UpChuck got caught up in it. No wonder they look so frightened but pretend to be strong and angry. They can't win either way. Research what's in her closet: "utube " and elsewhere. Be ready with the truth.
________________________________________________
Waking up to the Deep State
Flying The Unfriendly Skies Of New York
The lefty radicals in New York love abortion so much that they've decided it's fine to carry it out even right up until the point of birth.
New York Gov. Andrew Cuomo, a Democrat, signed last week the Reproductive Healthcare Act, which allows abortions up to 40 weeks to protect the woman's mental or physical health.
Their new ghoulish 'law' was welcomed by Governor Andrew Cuomo and others with great fanfare and applause. If the baby somehow survives and is viable, they promise to make it comfortable before killing it. This is horrific.
Hillary Clinton already stated that a baby isn't a legal human being until after birth. Apparently she and her ilk believe a baby, right up until the point of birth, is just a meaningless blob of matter to be hacked out of the womb as seen fit. Of course, the Clintons themselves consider other humans to be blobs of matter for them to use and exploit or kill and discard as they see fit. Think of the Clinton body trail and Seth Rich.
It's time to stop the evil that is the butchery of innocents.
Like Our Cartoons? You can add your voice to the movement that is sweeping the world, freedom from globalist oppression. Help support "weaponized" cartoons with a donation!
Click to Donate
Remember Where We Go One, We Go All! Thank you and STAY TOONED
ORIGINAL BEN GARRISON
Art now available to Collectors World-wide!
----------------------------------------------------------------------------------------------
Copyright 2019 GrrrGraphics, All rights reserved.
This hasn't changed has it?:
Occasional Cortex claims that we will not be here in 12 years due to climate change (Global Warming). That was before the latest record cold snap spreading across America.
Political Cartoon by A.F. Branco ©2019.
New York State has decided to allow abortion to full term, thanks to Democrats the death and taxes party.
Political Cartoon by A.F. Branco ©2019.
Funny how the Democrat's daily talking points regarding the border are in lockstep with the mainstream media, CNN, ABC, CBS, NBC, NYT, WaPo, etc right down to the same wording and phrasing.
Political Cartoon by A.F. Branco ©2019.
See more Legal Insurrection Branco cartoons,
click here
.
_______________________________________________________________________________
BREAKING:
PRESIDENT TRUMP HAS APPROVED OF BRIAN'S MISSION TO BUILD THE WALL!
YOUR DONATIONS WILL GO TO BUILD THE WALL AND FASTER NOW THAN EVER. WE ARE WINNING.
✅✅✅
OPT IN HERE
✅✅✅
only opt in if you donated before Jan 11
You don't need to opt in if you are donating for the first time,
it will go to build the wall.
UPDATE:

President Trump gave his blessing to this Gofundme project, We Build The Wall, Inc. He wanted us to relay that he personally thanks each of you who donated.
This project is only possible because of you so thank you! - Brian Kolfage