Every Nation is interested in Antarctica now. What is it all about? Minerals?
Experts raised concerns over China's ambitions in mineral-rich continent as the "Snow Dragon" icebreaker embarked.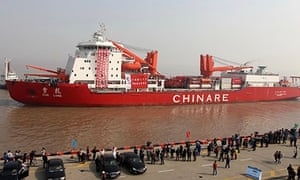 2013
China's colossal red icebreaker, the Xuelong or Snow Dragon, embarked on a 155-day expedition to Antarctica on Thursday. The voyage marks China's 30th trip to the continent, and many of the 256 crew are scientists hunting meteorites. Also onboard are construction materials to establish the country's fourth Antarctic research station, Taishan, which is to be located in Australian-claimed territory, a vast area of East
Antarctica
that houses an unknown wealth of coal, iron ores, manganese and hydrocarbon.
The Chinese icebreaker in the Antarctic, the Snow Dragon, is trying to maneuver through the heavy ice, after getting trapped in it. On Friday, the vessel helped rescue 52 passengers from a Russian ship that had been trapped in the ice since December.
2017
Published on Apr 12, 2017
http://undergroundworldnews.com
China has selected a location for its first-ever airfield in Antarctica, which is to facilitate Beijing's research efforts on the frozen continent. It is also considering establishing its fifth Antarctic base there next year, local media report.
The site selected for the future runway is near China's Zhongshan station on Antarctica's Prydz Bay, according to the China Daily. Members of China's 33rd expedition surveyed a three-square-kilometer area and chose a place for the future airfield, the newspaper reported, citing Sun Bo, deputy Director of the State Oceanic Administration's Polar Research Institute of China.
Sun spoke to a news conference in Shanghai on Tuesday after welcoming expedition members returning from their 161-day mission.
Learn More:
https://www.rt.com/news/384476-china-...
Matrix Ministries
1 week ago
It's almost like a kind of front line for some future war between humanity and chimeric creatures ascending out of an Abyss. As if humanity would be trying to cross a line through the Arctic at some point but they must be stopped. A war with giants that awaken? David & Goliath on a global scale? The locusts in the Book of Joel? Or perhaps it is an entrance to some Hollow Earth Paradise Lost that you need to take the mark of the beast to get your ticket to.
Meanwhile back at the ranch: