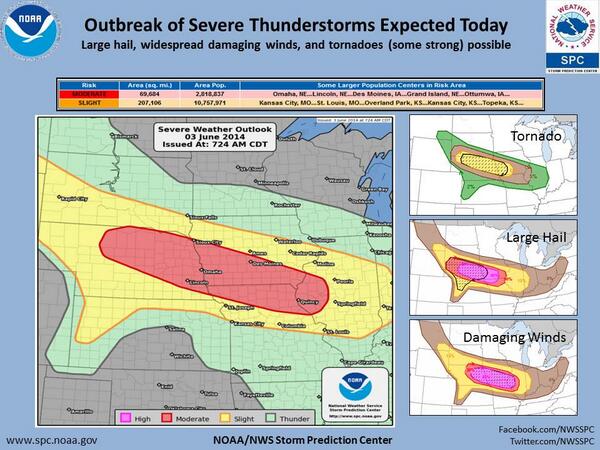 People in at least six states from the Plains to the Midwest are bracing for dangerous storms that
forecasters say
could produce hurricane-force winds, very large hail and a few "intense" tornadoes beginning late Tuesday afternoon.
According to the National Weather Service's Storm Prediction Center in Norman, Okla., the severe weather outbreak is expected to stretch from southern South Dakota through Nebraska, Kansas, southern Iowa, northern Missouri and west-central Illinois.
Forecasters predict that damaging winds — 60-80 mph in some places — and large hail will be widespread.
"It's called a 'land hurricane,' and one could develop tonight across the Plains," CBS Chicago's Megan Glaros tweeted.
According to Accuweather.com, the storms will be accompanied by heavy rain (2 to 4 inches) that could cause flash flooding in some areas.
Plains, Midwest brace for 'land hurricane' - Yahoo News
:
'via Blog this'
Survival Turkey Jerky,Chicken,Buffalo,Beef
No Hormones, Antibiotics,or Nitrates - Long lasting - Delicious!
---
Survive Anything
- Disasters - Economy Collapse - Mobs, Etc.
PROTECT YOUR FAMILY!
---
37 Food Items that will be SOLD OUT after Crisis:
Prepare!
---
NASAknows something.
Survival Guide
How to survive the
Coming Food Crisis
Click Here
SEW?

Get

FREE SHIPPING

on orders $35+ from

Fabric.com
AquaPonics
Grow Vegetables without Dirt.
NWO Vision Report Watch
The Anti-Christ Identity?
Can we know it now?
2012 - The Untold Story Click Here
---
Ping your blogAnd Chomp it www.Hypersmash.com