There have been so many chances for him to use his money to further spread hate and anti-Trump rhetoric, it is a wonder that he isn't broke yet.
He helped Hillary finance her campaign and then he threw money at the worthless recount efforts. He has also been discovered to be the source of many of the anti-Trump protests taking place.
He is certainly not above using violence to get what he wants.
It seems that whenever he sees an opportunity to support a cause against Trump and America in general, he leaps at the opportunity and doesn't care what the consequences are.
His newest ventures involve some major companies, it appears he might be attempting to use that influence to further his hate movement.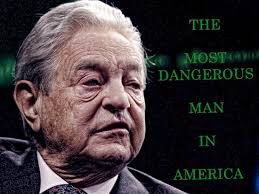 One company he has recently invested heavily in is Amazon. Soros increased his stake in Amazon in the third quarter by a remarkable 215.15%. He now owns $33.08 million worth of shares. This is still only a small percentage of his mass holdings but it is significant in the access it gives him to the American public.
Recently Amazon has been in the news for their moves towards robotic employees rather than human. Amazon currently employs around 300,000 people, an important statistic given the current economic problems of America. What happens to the job market as humans become obsolete and robots take over?
It seems a company that size would want to continue giving jobs to its consumers. Perhaps Soros is having a negative impact on them already? Soros' other recent investment includes media giant Netflix. Again, in the third quarter, he added $13.05 million shares worth of the company to his portfolio.
He arrived at a convenient time for the company; they were suffering financially according to their second quarter reports. Slow domestic and international subscriber growth was a contributing factor. There were fears from investors that the company could not keep up with rising brands such as Amazon and Hulu.
Analysts suggested that Netflix should focus on their original content, something that they do very well. This of course would come with increased spending. That, combined with the decreasing subscription growth, became a turn-off for many investors. Not George Soros though.
If Soros is so unhappy with this country and the direction President Trump is taking it, I would love to suggest some alternatives for where he can take himself and all his money.
Original Full Article:
Join The Pro-Trump Boycott: The Company That Sold Out To Soros, Now Spreading Hate For A Profit - Conservative Daily Post
'via Blog this'